Board & Staff
Jose Liz-Moncion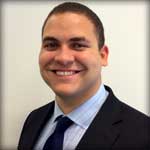 Jose works at Bank of America Merrill Lynch – Global Mortgages & Securitized Products Securitization Finance since 2012. He has worked for major financial companies such as Citigroup in New York, NY and JP Morgan in Wilmington, DE.
Jose is a graduate from The Wharton School, University of Pennsylvania, Philadelphia, PA – Bachelor of Science in Economics with concentrations in Finance and Marketing.
His community work includes volunteering with Make-a-Wish NC and had the role of interviewer for prospective students for the University of Pennsylvania.